Soda Off-Road Racing
by Sierra
GAME DESCRIPTION
SODA Off-Road Racing is a racing game from Software Allies, Papyrus, and Sierra On-Line that has SVGA graphics and supports Windows compatible sound cards for sound effects.
If you want anymore screen shots, you should go to http://www.op3dfx.com and look under the screen shots section.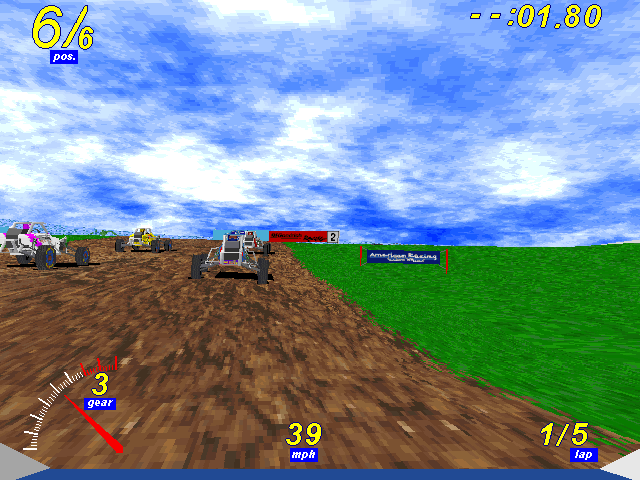 DEMO
In this game demo you can race around one track using one of the off-road vehicles.
Rendition Verite 3D cards are supported. But make sure you have the latest drivers for your card to get it to work.
The demo requires: Pentium 90+, 16MB RAM, DirectX 3.0, recommended configuration is a Pentium 133+, 24MB RAM
You can download the demo from here
SODADEMO.ZIP 19.63MB ftp.happypuppy.com /pub/lordsoth
http://www.sierra.com/perl/ftp/dl?id=88
CHEATS
PATCHES
(From Operation 3DFX)
This was published on a Sierra Message Board:
"Yep, it's for real. The 3Dfx people are porting N2 for 3Dfx, along with SODA, with Papy's blessing. In fact, it is my understaning that Papy has taken over the pr aspects of the patch, and have announced the exact date of the patch as sometime in the firs t six months of '98.:-)"
LINKS TO OTHER Soda Off-Road Racing Pages
Inzanez SODA off road racing site
Sierra
Operation 3DFX (screenshots)

GO BACK TO 3D PC DRIVING PAGE